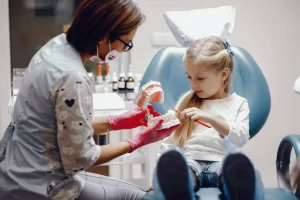 0
It is a department that aims to improve the healthy development of milk and permanent teeth of babies and children (0-13 age group), and to correct the effects of possible negative effects (caries, trauma, hereditary factors).
A pedodontist is a dentist who deals with the oral and dental care of babies and children aged 0-13.
Dental caries also occurs in younger age groups due to various reasons. The formed bruises are treated with filling and root canal treatment methods and re-use comfort is gained. However, untreated milk teeth are extracted, and in this case, tooth deficiency occurs. With this deficiency, the teeth are displaced. Retainers are made so that other teeth do not move towards the cavity.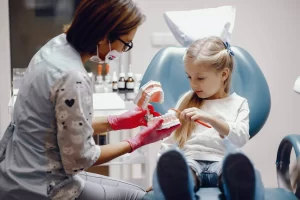 Since the enamel of milk teeth is thinner than permanent teeth, they are very sensitive to caries. For this reason, the care of children's milk teeth should be checked very often by parents.
In cases where the brushing habit is not acquired or not done regularly during childhood, deterioration in the habit may occur. Parents should carefully control the importance and regularity of tooth brushing.
Even if there is no problem in the dental health of the children, they should be examined by a pedodontist every 6 months in order to get used to the dentist process.
Treatment during sleep – sedation service for children who have fear of the dentist is provided professionally in our clinic. Dental treatment is carried out successfully with our expert pedodontist and anesthesiologist. Please click for detailed information on the subject.
You can get detailed information about Pedodontics – Pediatric Dentist on our page.